@actifit and @blocktrades Steemfest 4 Contest Status
If you don't know what Steem Fest is, check out everything about it in @roelandp's official announcement here, you can also have a look at the official web page.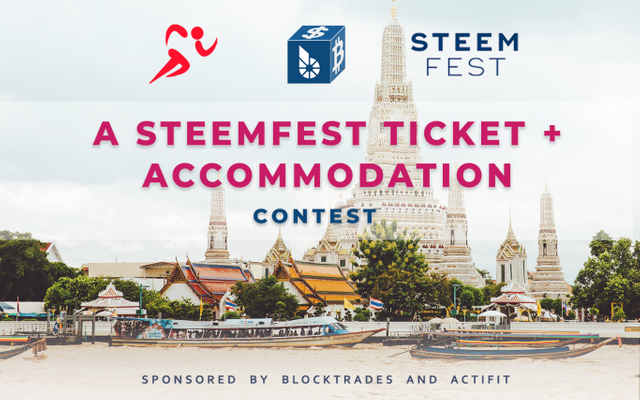 ---
The Contest
11 days ago, @anomadsoul announced a contest in which the lucky winner will win a ticket to Steem Fest 4, and have their accommodation at the event paid for.
The contest is open for everyone and anyone who uses @actifit, and @blocktrades and @actifit are joining efforts to gift a Steem Fest ticket + accommodation to one lucky Actifitter.
Contestants have until October 13th to earn up to 2 entry tickets per week for the final raffle. All you have to do is use Actifit during the weekend and share your activity on Steem and you will receive one entry ticket; if you share that same activity in one of your other Social Media accounts, you will get an additional entry ticket for the final raffle.
---
Rules
The following rules must be adhered to for the entry to be counted:
The activity posted on Steem must be made through the ACTIFIT application

The title for the post activity must be: Getting Fit for Steem Fest with Actifit and Blocktrades

The minimum activity (steps) to join this weekly contest is 15,000 steps. Posts with less activity than 15k will not grant the user a raffle ticket

The user must include on their activity posts the tags sfwithactifit and blocktradescontest
For a full list of the rules and requirements, please read through the contest announcement post by @anomadsoul.
---
Raffle Tickets Earned Thus Far
By October 15th, each Steemian who joined this contest and followed the rules, will have between one and thirty two raffle entry tickets - One for the weekly post that adheres to the rules above, with a potential bonus ticket for sharing/promoting your post on other social media. Do this for 16 weeks and you can earn a total of 32 tickets for the raffle.
The table below shows who has entered the contest, their total activity count, post count, promotion count, and the total number of ticket earned so far.
This data has been manually collected. If you feel there is an error then please let me know in the comments below and I will investigate.
Data collected Saturday 6th July 2019. If you have posted today and do not think your entry has been included, don't worry it will be added to the next post.
---
Promote Steem and the Contest
As well as earning you an additional ticket into the raffle, promoting the contest on social media is excellent way to promote Steem also. Thank you to all the entrants who have shared their workouts on the likes of Twitter, including @practicaleric.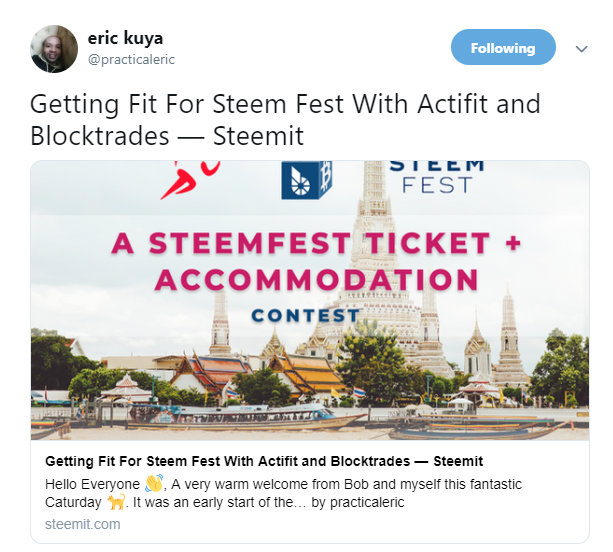 Using the table above, entrants can also connect with each other and help spread the word by retweeting/sharing each others others content. On scanning each post for the necessary data, I found some excellent reports that had been expanding into 'travel' type content. This post by @outlinez even earned a @curie vote and would be perfect to promote on other social networks.

---
Steem Fest and I
For the past two years, I have been fortunate enough to attend Steem Fest, and last year my trip was covered by winning a contest such as this one. It's difficult for me summarize how much fun I had, how much I learned, and how much I felt at home at these events, and I strongly advise making an effort to get there if you can!
Steem Fest 2 was held in Lisbon, Portugal, and last year we had a trip to chilly Krakow in Poland. It has long been discussed that the November date is not ideal weather-wise in Europe, and so when I heard this years event was to be held in Thailand I was both excited and sad.
This year, beyond a miracle or a big fat bull-run, I am unlikely to be able to attend. Bloody typical that it is taking place in the forever temperate Bangkok - I am definitely overdue a return visit to Asia and would have most likely stayed on after the event to make my way to the beaches in the south. What a fantastic opportunity to meet fellow Steemians and take a holiday in the sunshine.
I wish all the contestants the best of luck in the raffle mid October. Don't forget that you can enter once every weekend, and to share the post on other social media.
Cheers
Asher
---
Both @blocktrades and @actifit are a witness for Steem, if you like what they are doing you can vote for them here