A Magical Trip Down Memory Lane ~ SteemFest 3 Edition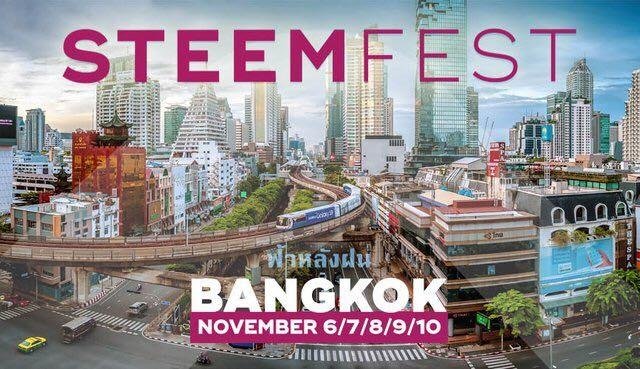 I remember being super nervous as I waited to check in. I had arrived in Krakow hours earlier but I spent the day wandering and exploring on my own. So when felllw Steemians started piling into the Q's lobby to snag their badge and mingle before the festivities actually kicked off, I got all sweaty palmed and quiet.
As I quietly waited in line, gazing around at both the unfamiliar and familiar faces, I heard the following line..."I know this guy...Blewitt!". It took me a second but it was @simonjay! It was all kinda surreal to me to be a bit honest. I was a total stranger in this room in "real life". I had chatted with lots of these folks throughout my previous 6 month tenure on the platform, but I still felt like a complete ghost...until Simon.
Simon and I had struck up a nice friendship over the previous few months and he was just the ice breaker that I needed to grow some balls and do what most of the others were already doing...connecting with one another. Only this time in person and not on the chain.
Over the next hour or two, I was introduced to folks for the first time...met with users who I knew prior only through typed words, and saw a few familiar faces. When I saw @anomadsoul enter I remember kinda getting a bit nervous again. Eric was an early supporter of the nerdy dogshit that I was spewing and that helped a bunch in me deciding to tough those early rough days out. Plus...he was kinda a superstar here. I was, and still am pure shit. On the chain and in life. Eric by the way is equally shit, don't let my high praise for our first encounter fool ya. 😜
I just remember him going around and taking selfies with everyone. I sheepishly waited a bit and made my way over to him and he immediately knew who I was and gave me a big hug. Or he faked it. I dunno. Either way he made me feel at ease again and we snapped that first pic as his brother (who is meet later at dinner) @zlatan-spielberg looked on in disapproval and disappointment.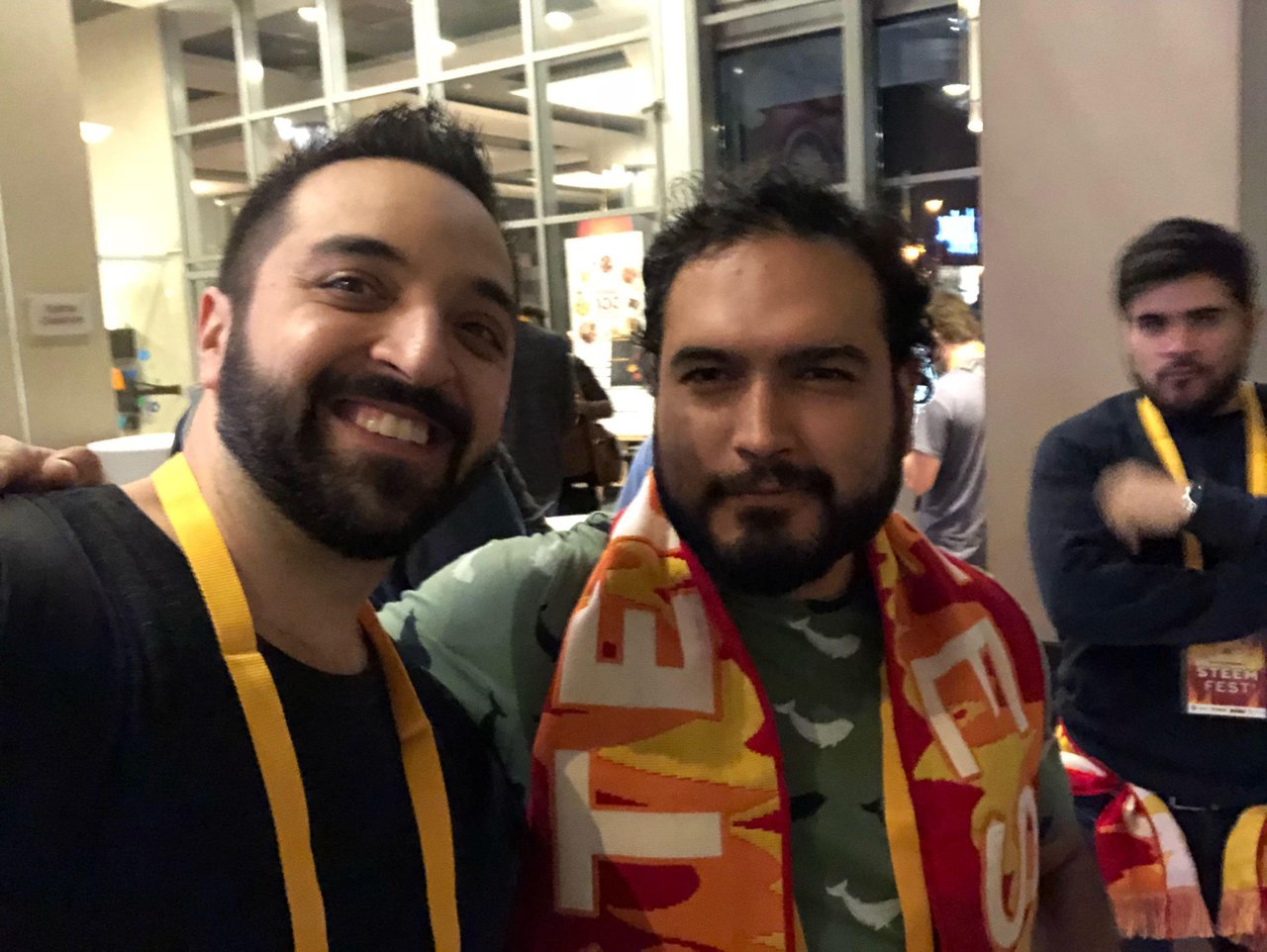 Through mingling and introducing myself, I weaseled my way into the graces of 2 of the loveliest ladies at the event... @escapist & @eveuncovered. These ladies and I formed a super tight bond for the remainder of the trip and I'm thankful for that as they made me feel welcomed there each and every moment.
One of those moments included the dinner that a bunch of us went to on that first night. I was just turned to and asked, "you want to come to dinner with us?", and we walked through the beautiful streets of Krakow until we found a place to grab some grub.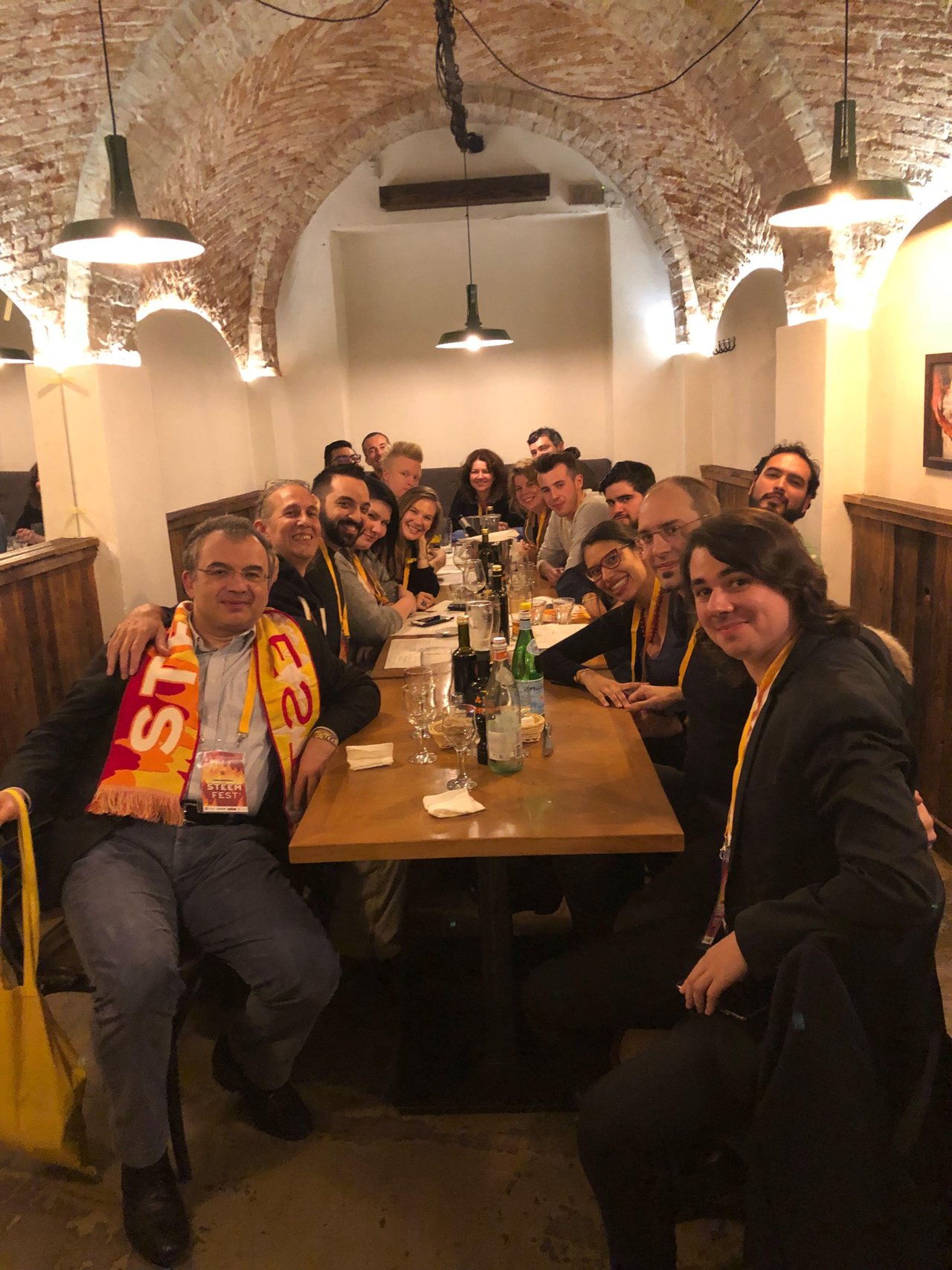 That was a great icebreaker. Food, beer, and conversations. Getting to actually know one another. It was exciting and I felt like my adventure was just beginning....and it was. At least that evening, because afterwards...we rolled about 40 folks deep to a basement bar that was juuuuuust about to close before Eric convinced them to stay open. And stay open they did. I don't even remember what time I walked home at but it was hours later and the party was still bumpin. I do know we were doing this shit at just around 2 am.
Nothing like being ridiculed by your new internet friends in a dungeon like bar in a foreign country for not wanting to drink flaming liquid!!!
My point is...this trip was filled with moments like this. Not...us drinking shot that was on fire. But, bonding moments. I feel as though I had so many great and personal moments with so many people. From bowling with @el-cr and @evecab, to watching @crimsonclad eat the last piece of bacon, to disappointing @abh12345 in pool, to the bus ride that allowed me to meet my long lost retarded twin in @nomadicsoul. Having deep conversations with the super intelligent and eloquent @tarazkp, laughing about truly inappropriate shit with @karinxxl, teasing @justineh like a school boy badgering his crush, eating dried fruit for ages with @celestal, bonding with @honeydue, telling insecure and awkward jokes with @steemmatt, having a late night adventure with @cryptogee...I could go on and on.
I don't want to name drop and tag a zillion people here because I can and it would be totally justified as each photo has a story. Each meeting was an exhilarating adventure that I'm dying to tell you all about again. But I won't. Instead I'll link some of my original posts regarding this magical week if the new users here are so inclined to read.
I loved every second of this trip...everyone of them accept saying goodbye. Usually I'm happy to get back home after a trip but I wanted this one to last forever. I was riding on such a magical high during and after Krakow that it just made it a certainty that I would make it to SteemFest 4. Which I'm certain I will.
This event opened up a bunch of doors for me as well. It allowed me to become friends with new people and kinda changed the way I looked at this whole experience. It wasn't just about the happenings on the blockchain which are important of course. Without these happenings, this event would not have existed. But to me it was about the beers shared. The stories swapped. The laughter and yes...even the tears. We all did that together that week. A family. One that I'm proud to be a part of.
So before I sign off on this pile of worded dung, I would like to thank the community here for being the best. Seriously. I can't think of another community that is this sprawled out and varried yet so connected. I truly do love you all. Give a big thanks to @anomadsoul and @blocktrades for sponsoring this initiative to not only sup us all up to do this shit again, but to hopefully encourage new users to take that brave and scary step. Trust me folks...it's absolutely worth it. Lastly I'd like to thank the amazing @roelandp and his team of helpers. Without you, I would not have this amazing week to look back on. These amazing relationships I was lucky enough to form. These memories that will last a lifetime. You deserve a thunderous applause and so much more. But for now, you'll have to settle for typed words from a zilch.
See you fuckers in Bangkok!!!
Blewitt
Check out more about my Krakow adventures with these sacks of shit here!!! They are worth reading. I promise!!!
https://steemit.com/steemfest/@blewitt/back-from-steemfest-a-quick-take-by-blewitt-ef13247e376f
https://steemit.com/steemfest/@blewitt/blewitt-s-steemfest-photos-and-stories-part-1
https://steemit.com/backfromsteemfest/@blewitt/blewitt-s-steemfest-photos-and-stories-part-2-b5a60a189d536
https://steemit.com/backfromsteemfest/@blewitt/blewitt-s-steemfest-photos-and-stories-part-3-abaa0fb91362