Filipino Cuisine at its Best (Part 2)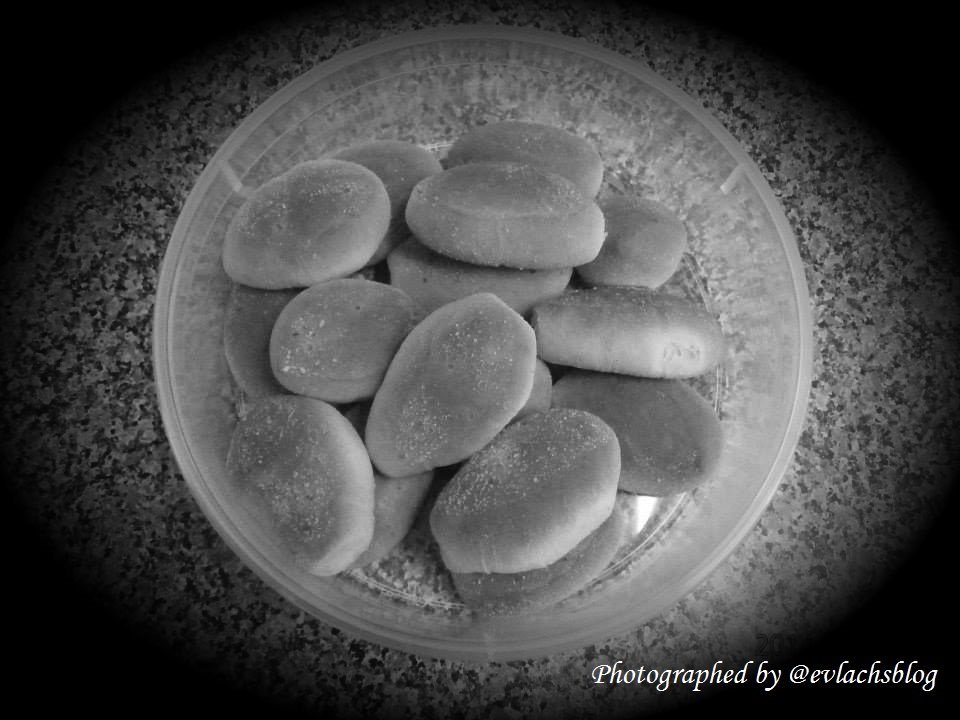 Filipino food is both art and culture. The delicacies are elaborately prepared and presented, especially on a "Fiesta Table" (the Feast table), and they are served in platters usually made of the most indigenous materials such as banana leaves, woven or straw trays ("bilao"), bamboo, and clay pots ("palayok").
Dining at the Filipino table especially during Catholic feasts of patron saints would reveal foreign culinary influences that Filipino cooking has adapted. As I have stated in my previous post, Filipino Cuisine at its Best (Part 1), the Philippines, as a nation, has a trademark of mouth-watering and sumptuous native dishes, which are either authentic Filipino or a blended taste of Eastern, Western, and Oriental cultural influences.
---
| Pinakbet | Paksiw na Bangus | Lumpia |
| --- | --- | --- |
| Ginataang Kalabasa and Sitaw | Sinigang (Shrimp) | Beef Sinigang |
For Part 2, here are a few other popular and delectable Filipino dishes:
---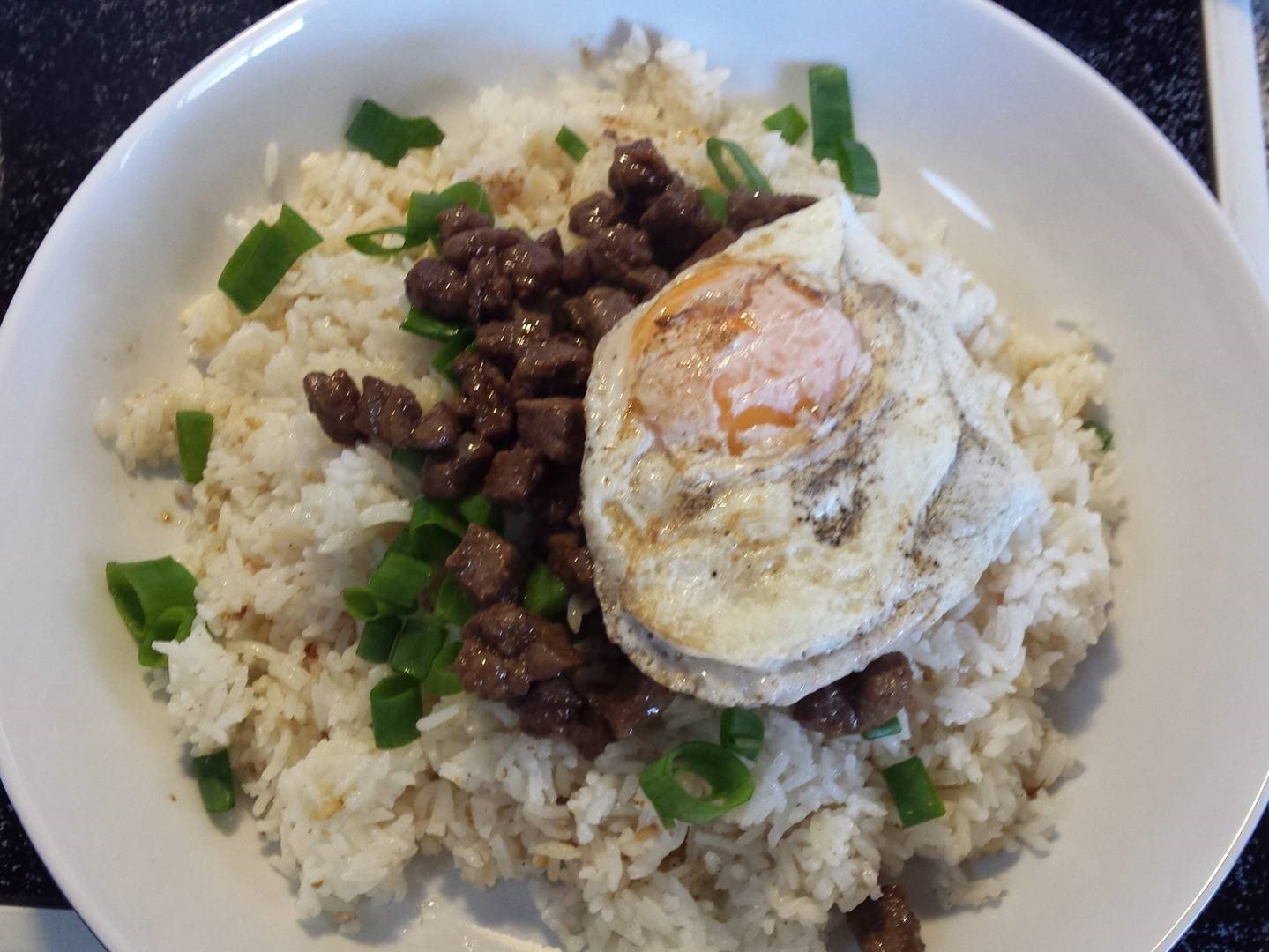 Tapsilog is a combination meal which consists of tapa, fried rice, and egg.

TApa - is related to the Sanskrit term "tapas" which means heat. It is prepared by marinating the beef overnight (see recipe below).
SInangag - a Filipino term for rice fried with garlic and seasoned with salt. The root word is "sa-ngag", which means fried, roasted, or toasted. It is commonly associated with rice (being fried).
ItLOG - Filipino term for "egg".
---
Adobo

Adobo is pork or chicken stewed in vinegar, garlic, bay leaves, and peppercorn. Squids and octopus can also be stewed and cooked the same way. The Spanish influence is strongly recognised in this native dish.
---
Kare-Kare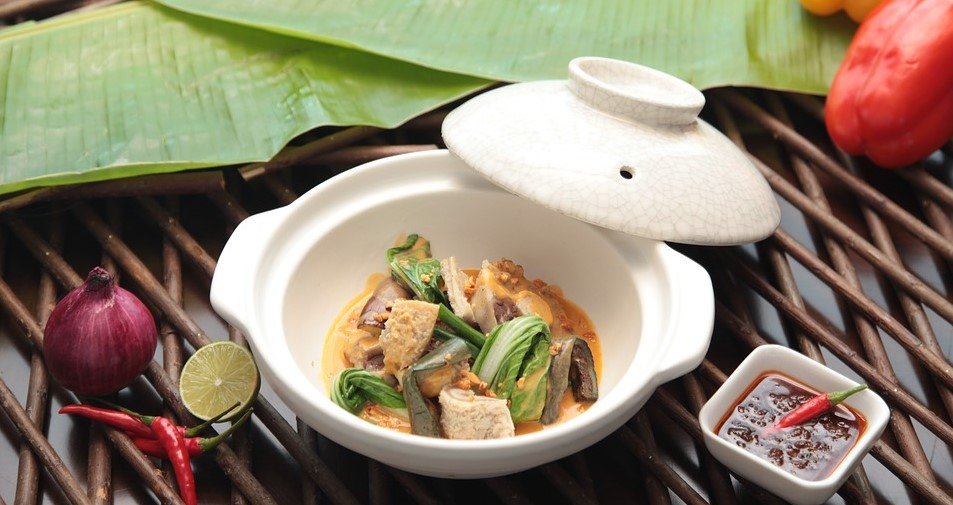 Image from Pixabay
This Filipino dish has a rich sauce thickened by ground peanuts and rice. It is a boiled mixture of beef tripes and intestines and variety of vegetables such as eggplants, string beans, banana heart, and bok choy or petsay (or Chinese white cabbage). It is served with steamed rice and best eaten with "bagoong" or shrimp paste.
Kare-kare is considered to be the most popular and favourite Filipino dish which is served during special occasions, such as birthday celebrations and parties, feasts of patron saints, Noche Buena or Christmas Eve celebration, and Media Noche or New Year's Eve.
---
Ginataang Hipon at Kalabasa at Sitaw (Prawns in Coconut Cream with Pumpkin and Green Beans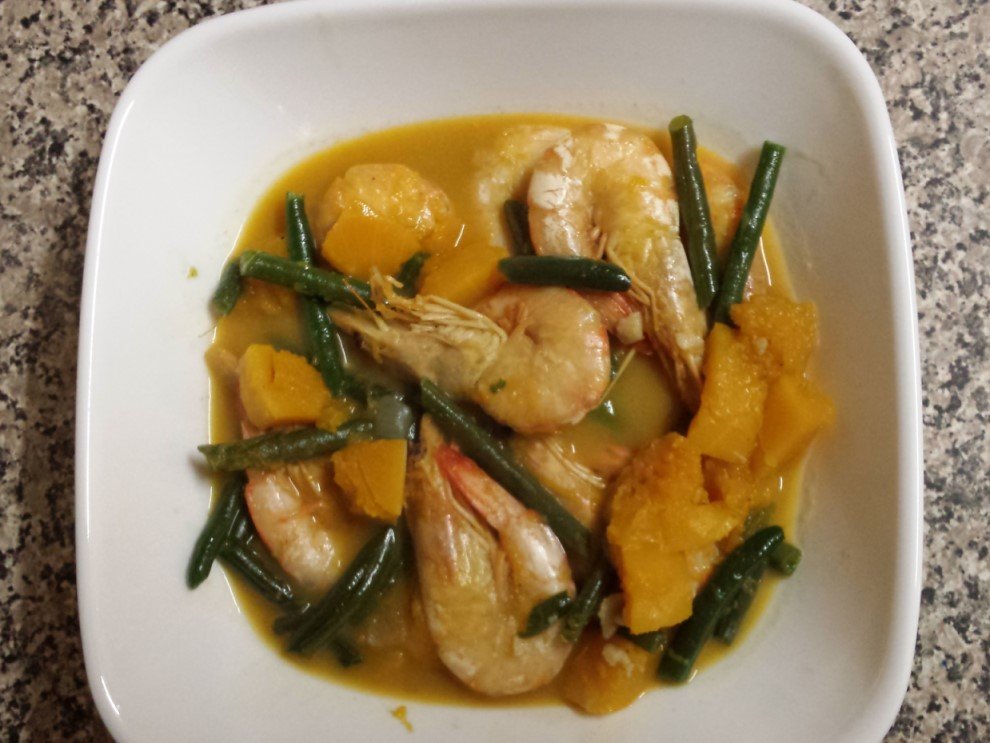 This Ginataan is a Filipino specialty dish that makes use of prawns as its main ingredient mixed with pumpkin and green beans. It is sautéed in garlic, ginger, and onion and flavoured with shrimp paste or fish sauce and then simmered in coconut milk or cream.
---
Pochero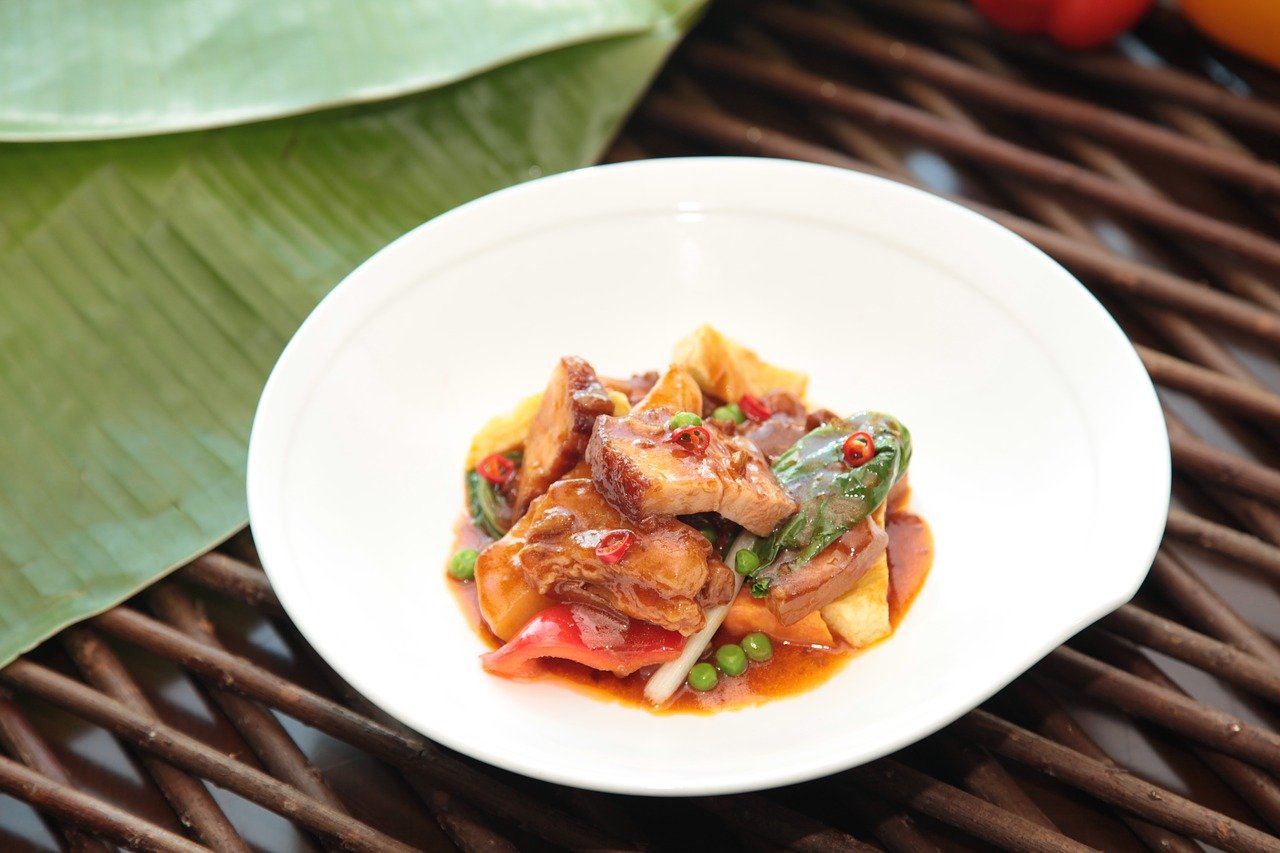 Image from Pixabay
Pochero is a dish of stewed beef or pork, sautéed in garlic, onion, and tomato sauce, and mixed with string beans, cabbage, saba banana, potatoes, carrots (optional), and garbanzos (chick peas).
I mentioned this to @bananamemos a long time ago that a type of bananas, which is the "saba", is used in cooking Filipino dishes. I just wonder how and where @bananamemos is now. I haven't seen any post from The Banana Collective for so many months now. I miss their presence on Steemit.
---
Lechon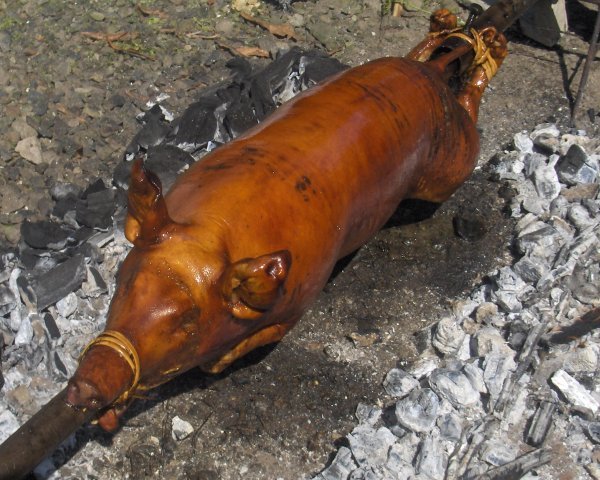 Image from Wikimedia
A whole roasted pig, known as "Lechon", is always served on the Filipino table, especially on big occasions. It is a whole young pig skewered usually on a large bamboo stick and roasted over a charcoal pit until its skin is glazed and brown and crisp to a crackling point, but the meat is white and tender. And oh, the fat is juicy and so flavourful. The roast pig is served with Filipino syle gravy, which is pork liver sauce, that gives the lechon a delightful flavour and sweet and spicy taste.
Usually when served on the table, the stick has already been removed and a whole apple is placed in the pig's mouth for added decoration. I hope @bananamemos will read this post and comment about this. An apple is used only as decoration, whereas the banana is used as an important ingredient in some Filipino delicacies.
---
This is Part 2 of my "Filipino Cuisine at Its Best". To view Part 1, click this link. I will try to write Part 3 since there are still plenty more of Filipino dishes that I have not included yet.
If you like this post, please upvote, resteem, or leave a reply in the comment section below. I appreciate your thoughts and your time to read my post. Thank you, until then and God bless you all!