Birds in Flight for Feathered Friday
It's Feathered Friday today so now you can squint and see some birds I caught in flight.
This guy is in line with helicopters flying over San Diego Bay while a tug brings in the Dole Ship from Hawaii.

And this one is dive-bombing for a bug.

I already showed this seagull in an earlier post for this challenge, related to the ocean, but now here he is again because he is flying.

This bird was inches from me playing with the kid's basketball hoop in my Coronado California alley. He did not care if I took pictures, but he was not going to pose.

A humming bird hovers calmly enough to make me think I could get a good shot. He is at least 20 feet away, but sure looks bigger than he was.

I was taking a photo of a Jacaranda coming into bloom when this bird decided to make a quick exit.

All photos were taken with a cheap Canon point and shoot set on automatic. My post today is for featheredfriday challenge by @keithboone. You should definitely go there to see some excellent bird photos by Keith and the other participants.
I'm posting with the the ulogs dapp to the untalented tag, and I think you know why!
= =
Minnow tips!
Here is my latest minnow tips post if you struggle here. These tips can help you even if you are not new.
Monday Minnow Tips for Everyone from @fitinfun
Contents of the Above Post
What should I do EACH DAY on STEEM with low power?
What to do with your STEEM
Are you shooting blanks with your votes?
Should you use an autovoter?
Join qurator
Do not post to nowhere
Why bother to comment?
How and Why to use kryptonia
How to get Upvotes
For Twitter Users
How and Why to lease delegated sp
Curation Trails
Using Discord
Please Help Me Keep Helping at STEEM
Rent is due on Februry 15, and I do not have it yet. Stress in the name of the game here now. Maybe you can help me succeed for another month.
Please follow my blogs:
@bxlphabet is my son's blog, and I am so grateful he has returned.
We all post on Busy most days, where their upvote for us is based on the collective SP of our followers. We follow back, because we love you.
Put my blogs on your curation trail
@fitinfun
@fitinfunfood
@bxlphabet
Delegate SP to any of us
Upvote any of our older posts which are close to payout.
If you can "only" vote some posts - It is enough.
If you can "only" send 1 STEEM - It is enough.
If you can "only" offer advice for how I can do better - It is enough.
If you can "only" offer encouragement and good wishes - It is enough.
If you can do more and think my presence here has value, I hope and pray you will.
This is the power of STEEM.
= =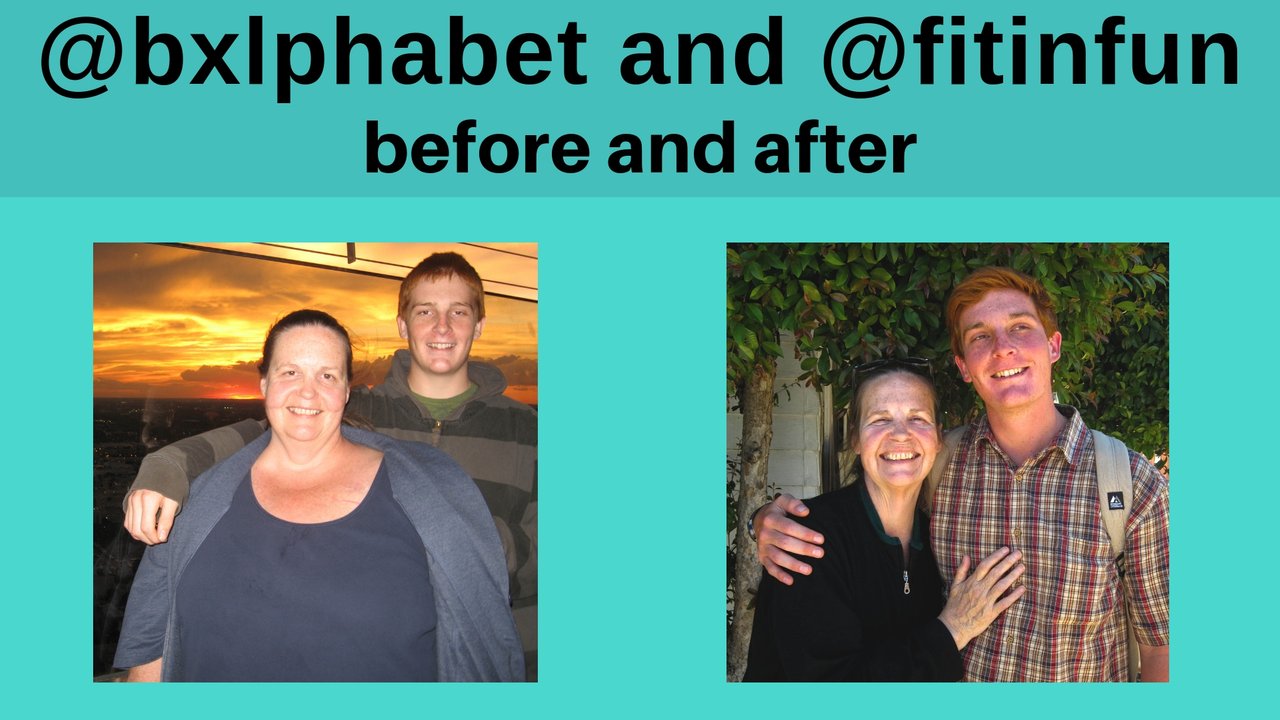 Statistics say that only 5% of people with health resolutions for the New Year will still be on track after Super Bowl Sunday. Is your fitness equipment still out handy, and are you still on a "diet?"
I lost "Half My Size" eight years ago by using natural methods. I started on December 5th and did not give up. You can do it too!
This is Sharon @fitinfun. I am posting:
Healthy Food Ideas on @fitinfunfood

Motivation Minnow Tips and Everything Else on @fitinfun

@bxlphabet is posting Southern California, steemmonsters and dtube videos.
Please follow along or contact me directly if you would like some individual help with weight loss and health. Anyone can do this if I did.
And be sure to fitinfun no matter what.