Spring Time Pizza! - FOOD PHOTO SHOOT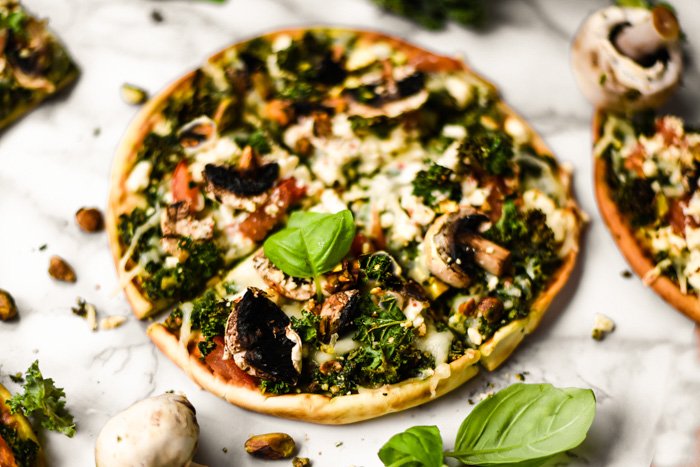 The snow is quickly melting and dripping off our roof today and the warmth of the sun is noticeably warmer. Can you guys smell Spring in the air yet? I'm so excited for this season.
I'll be going skiing for the last time this season tomorrow and then I'm afraid the condition of the snow just won't be worth it but I am excited about my last run. I'm dreaming up some delicious recipes for Spring and it has me remembering some of my favorites from last year like this pizza!
-Pistachio+Kale Pesto Pita Pizzas (Vegan)-
These individual pita pizzas topped with homemade pesto make lunch or dinner fast and easy without sacrificing any of the flavor
Prep Time 15 minutes
Cook Time 30 minutes
Total Time 45 minutes
Servings 4 pizzas
-Ingredients-
Kale+Pistachio Pesto:
1/2 cup toasted shelled pistachios
1/2 cup nutritional yeast
2 cups packed kale leaves stems removed
salt & pepper to taste
4 cloves garlic peeled
1 cup fresh basil leaves
1/4 cup extra virgin olive oil
Pita Pizzas:
4 large pita breads
1 cup shredded dairy-free cheese optional
prepared kale pesto recipe above
Optional Toppings:
1/4 cup chopped pistachios
1/2 cup thinly sliced mushrooms
1/2 cup diced tomato
fresh basil leaves
-Instructions-
Kale+Pistachio Pesto:
Combine all the ingredients for the pesto in a blender or food processor and pulse until nearly smooth. It should be thick and just slightly textured.
Pizzas:
Preheat oven to 400 degrees F (200 C) and line 2 baking pans with foil or parchment. Lay the pitas on pan and divide the pesto among them then spread in an even layer. Sprinkle on the cheese and top each pizza with mushrooms, tomatoes, chopped pistachios, and a sprinkle of freshly chopped basil if desired.
Bake for 15 - 20 minutes until the cheese is starting to brown along the edges.
Remove pizzas and cool for about 5 minutes before slicing and serving hot.
-Recipe Notes-
This recipe can be made on a full-size pizza crust rather than pitas.