Healthy Dinner Inspiration - FOOD PHOTO SHOOT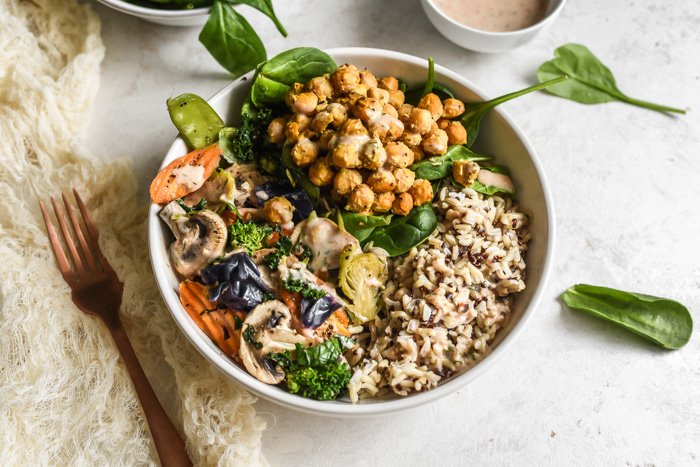 I always say that once you pass Monday the week is better from there. My plans today are pretty basic. Blog stuff, gym, make yummy food, throw in some yoga for good measure, lol. What are you up to?
Have you tried this recipe yet? It's so simple any yet it's one of my favorite recent creations. Veggie Grain Bowls with Crispy "Parm" Roasted Chickpeas & Aji Ranch
Simple meals are the best and the easier the better. These bowls are perfect combination of a few really easy components.
Prep Time 15 minutes
Cook Time 30 minutes
Total Time 45 minutes
Servings 4 -6 servings
-Ingredients-
--Crispy Parm Roasted Chickpeas:--
2 cups chickpeas cooked (not rinsed)
1/2 cup nutritional yeast
1 teaspoon garlic powder
--Aji Ranch:--
1 cup plain non-dairy yogurt
1/2 teaspoon onion powder
1/2 teaspoon parsley dried
1 tablespoon Aji pepper sauce or any sauce such as sriracha
1 teaspoon worchestershire sauce be sure your brand is vegan
3 cloves garlic minced
--Steamed Veggies:--
4 -5 cups mixed vegetables any that you like
salt and pepper to taste
1 teaspoon garlic powder
--Bowls:--
4 cups cooked brown rice or any grain you prefer
4 cups fresh spinach
-Instructions-
--Crispy Parm Roasted Chickpeas:--
Preheat oven to 375 degrees F (190 C) and line a baking tray with parchment. Drain cooked chickpeas and pour them into a medium mixing bowl. Add the seasoning and toss to coat evenly. Spread the chickpeas out on tray in an even layer and place in the oven to roast for 15-20 minutes until browned and crispy. (Take them out after about 10 minutes to turn for a more even roast.)
--Aji Ranch--
Stir together the ingredients for the ranch and set aside until ready to make up the bowls.
--Steamed Veggies:--
Pour veggies into a large skillet and add about 1/2 an inch of water. Cover with a lid a place over medium high heat to steam for 6- to 8 minutes or until they reach your desired tenderness. Remove from heat and season with garlic powder and salt and pepper to taste.
--Bowls--
To make the bowls warm your chosen grain (if not already hot) and scoop desired amounts into bowls along with the steamed veggies, fresh spinach, and roasted chickpeas. Drizzle aji ranch over bowls as desired or serve along side.