Cute Bunny Ears Coconut Vanilla Cupcakes - FOOD PHOTO SHOOT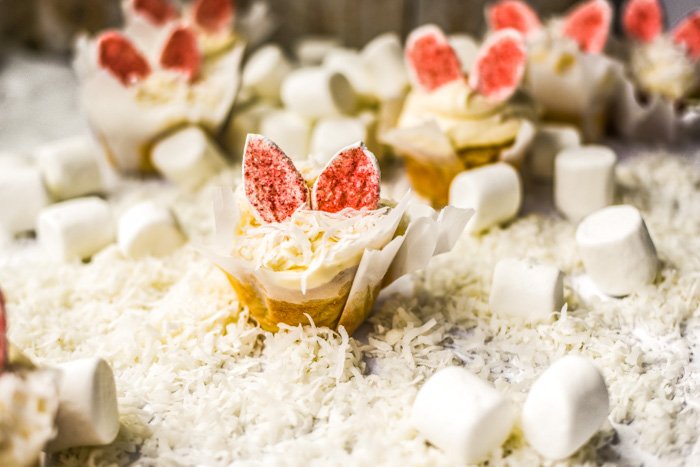 Wow, is it just me or is 2019 already passing lightning fast? It's not long till April you guys and that's also when Easter Sunday is this year. I've already ranted about my confusion over Easter's jumping date on the calendar every year so I won't go into that, but I am curious, are you getting sunny weather yet? Spring seems to be taking it's sweet time getting here this year, at least for this area.
Since it's almost Easter I had to share some fun sweets. (Hey, It's for the children. 😉 ) I wanted to share even more this year, but as usual the time has been creeping up on me so I'm cramming them in before it's too late. I'll still probably sneak in at least one or two more before the month is over, but I wanted to share these for the weekend.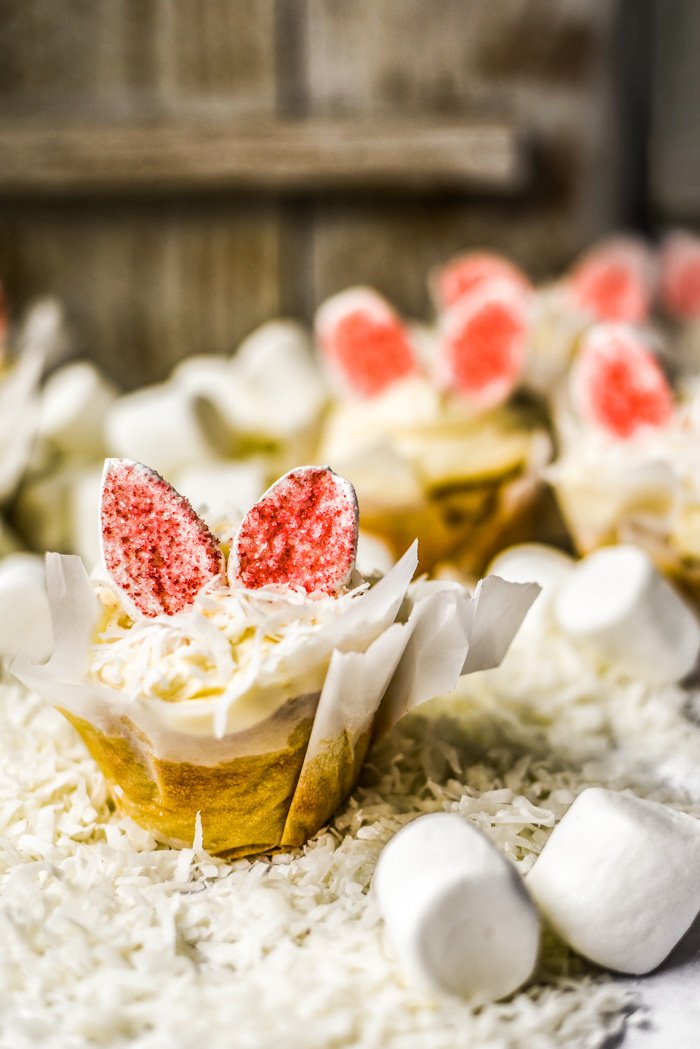 That's why I'm really excited to share these because the decorating is so simple a child can do it. In fact, these are a great recipe to make with the little ones. I mean, what kiddo wouldn't love turning plain vanilla cupcakes into fluffy Easter bunnies???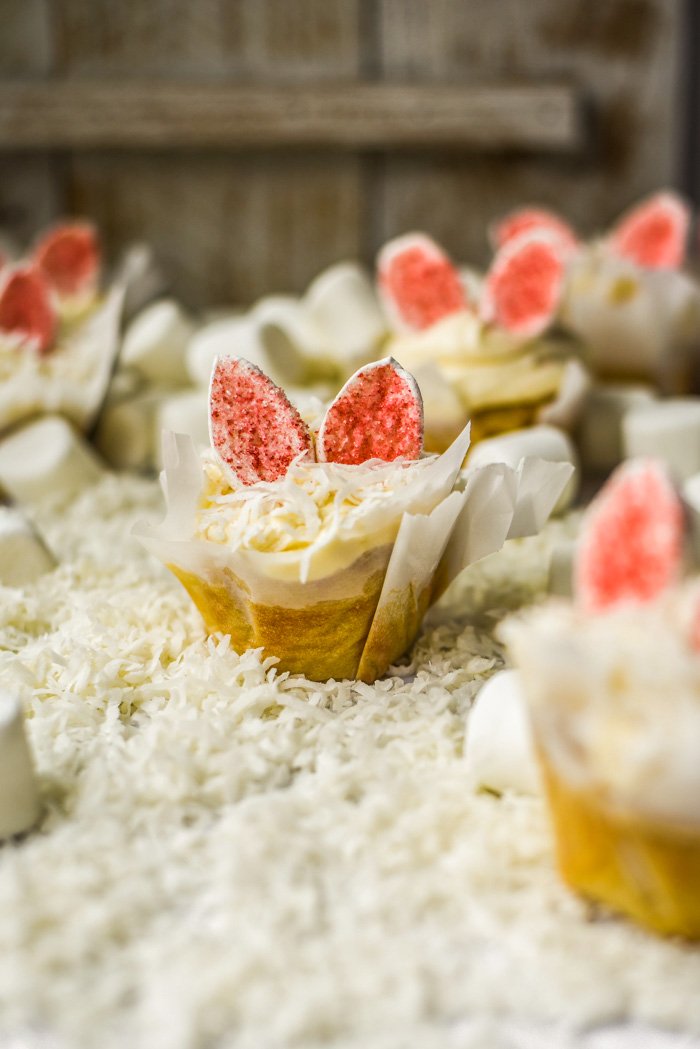 Heres the gameplan; bake these soft vanilla coconut cupcakes, stir up the fluffy marshmallow frosting while they cool, then grab some pink sugar and marshmallows and cut the mallows diagonally with your kitchen scissors then dip 'em in the sugar to make your ears. Presto! Frost the cupcakes and sprinkle with coconut shreds (or not if you're not a fan) then stick on the ears and devour. Super easy, right?
I hope you're getting some nice weather and that your Easter this year is full of warm breezes and sunny blue skies! Let me know if you make these.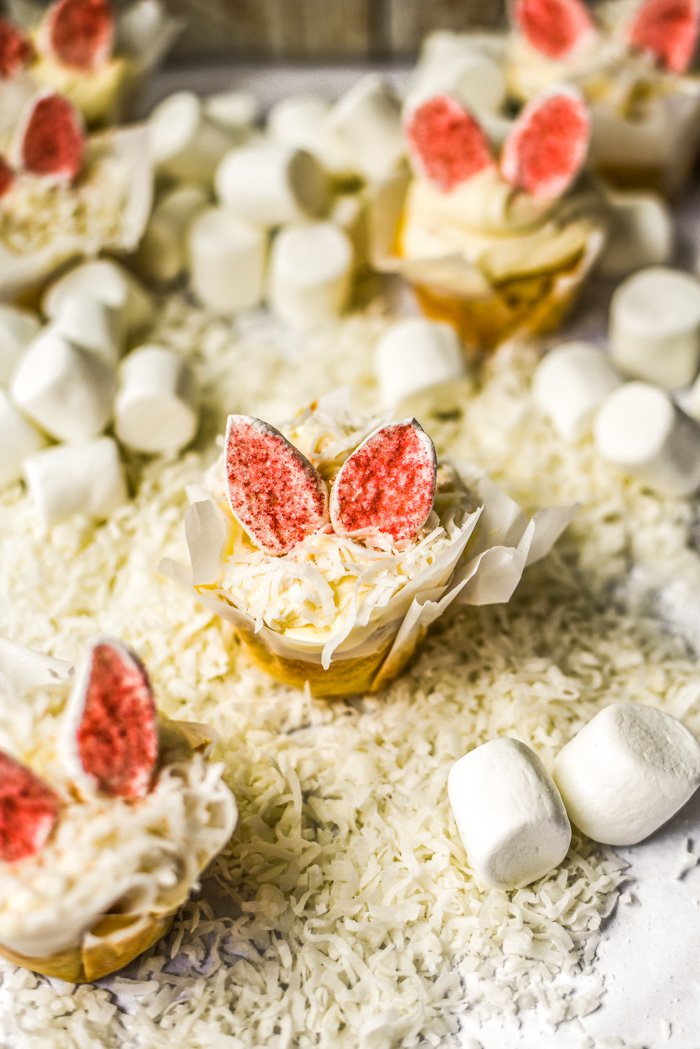 Cute Bunny Ears Coconut Vanilla Cupcakes
Nothing says Easter celebration like some fluffy bunny cupcakes! These simple to make treats are great to make with the kids.
Prep Time 30 minutes
Cook Time 40 minutes
Cooling Time 30 minutes
Total Time 1 hour 10 minutes
Servings 12 cupcakes (about)
Ingredients
1/2 cup 1 stick butter
1 cup sugar
1 13.5 ounce can full-fat coconut milk
1 1/2 tablespoons baking powder
3/4 teaspoon salt
2 teaspoons vanilla extract
2 cups flour
Frosting:
3 1/2 cups powdered sugar
1/2 cup vegan "butter" or organic vegetable shortening room temp
2 teaspoons vanilla extract
1/2 teaspoon almond extract
1/4 teaspoon salt
1 tablespoon almond milk
1 teaspoon coconut extract optional
Optional Toppings:
shredded coconut
about 12 large gelatin free marshmallows
pink sugar sprinkles
Instructions
Preheat oven to 350 degrees F (180 C) and grease a 12-count cupcake pan with oil or line with cupcake liners. In bowl of stand mixer, cream butter and sugar together. Add the coconut milk and beat until combined, then add all other ingredients for cake batter and mix until smooth.
Divide batter into the cupcake slots as evenly as possible. Bake for 25 - 28 minutes until toothpick inserted in center comes out clean and edges are lightly golden. Remove the cupcakes from oven and cool completely before frosting.
For Frosting:
Beat butter in a large mixing bowl until creamed. Add vanilla and coconut extracts, salt, and powdered sugar one cup at a time. Add the coconut cream beat until light and fluffy, about 3 minutes.
Assemble:
Use a sharp pair of kitchen scissors to cut each of the marshmallows diagonally. Dip the cut edges where it sticky into the pink sugar and press down to coat.
Use a knife or spatula to frost cupcakes or pipe frosting with a piping bag if you prefer. Sprinkle with coconut shreds if desired and top with your bunny ears.

ALL CONTENT IS MINE AND ORIGINAL! All of these food photos were taken with my Nikon D750 and my favorite Lens, the Nikon AF-S FX NIKKOR 50mm f/1.8G. You can find out more in my INTRO POST.
Also, a huge shoutout to @rigaronib for designing my logo!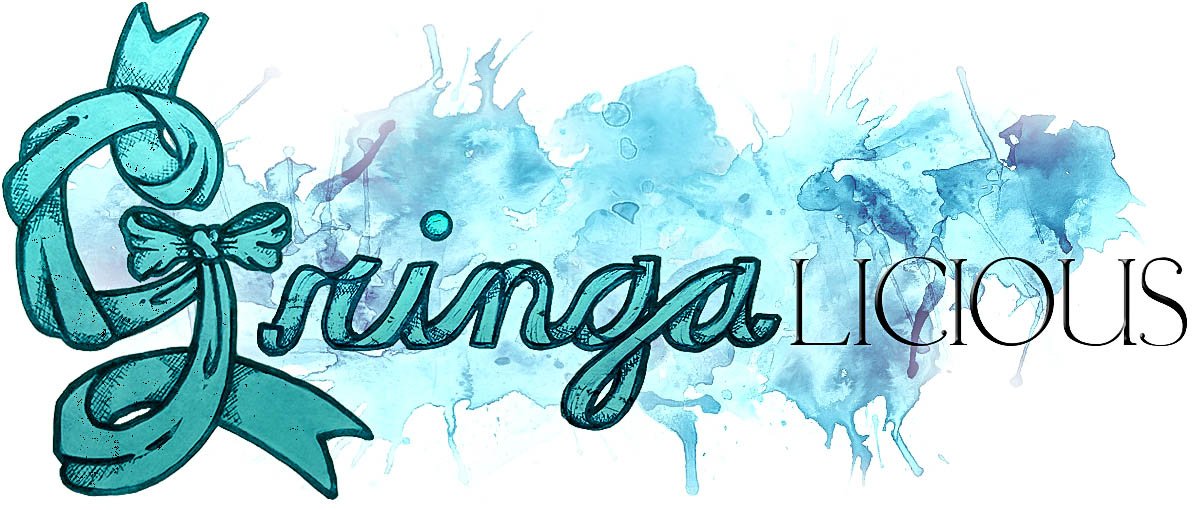 If you're looking for more recipes check out some of my other recent posts!