CARROT CAKE MINIS 💮💛💮
Hello my Dearest Foodies,
There is quite a story behind this yummy mini cakes recipe. Well, the original plan was to make carrot cake cupcakes, however, it didn't turn it that way, lol. What happened was is that I found very good RECIPE online with spelt flour, but it was white spelt flour (which is actually not healthy) and not a whole grain spelt flour (which is healthy) like I wanted. Nevertheless, I used the whole grain anyway. This may be the reason, why the cup cakes did not rise high enough. Although I was very disappointed about that, the taste is delicious, so I came up with an alternative which made them not only pretty, but even more yummy. I cut them in half and made CARROT CAKE MINIS. Now I ma very happy with the result and I may even make a whole cake. My sister likes them too, which is a very good sign!
And by the way, today is a big day, because my sister arrived from Slovakia. It's been eight years since she was here last time so I am very excited. We have planed lots of activities so I will be quite busy, but I try to keep you posted.
In the meantime, have a wonderful weekend and HAPPY MOTHER'S DAY 💮💛💮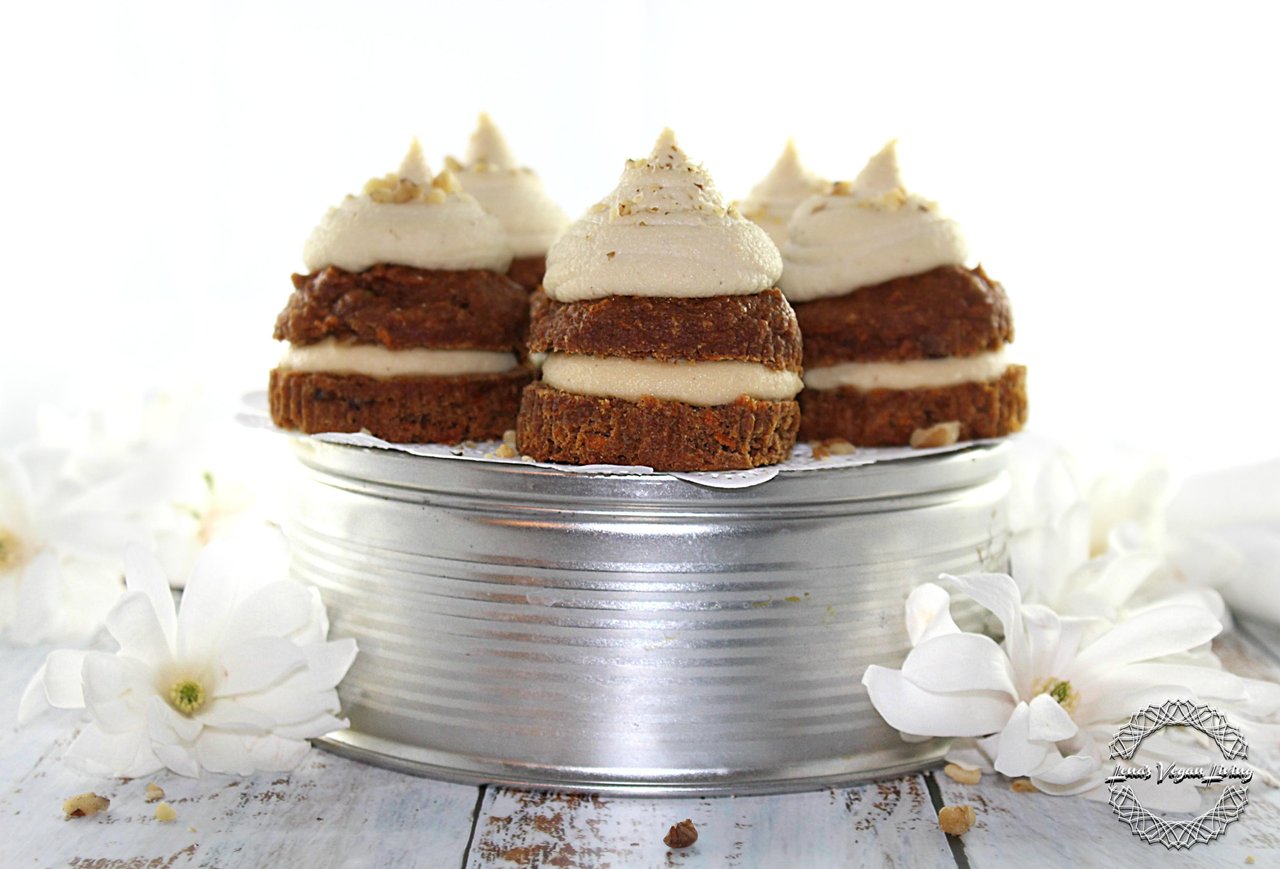 CARROT CAKE MINIS
Spelt Mini Carrot Cakes with Cashew Cream
Vegan – Refined Sugar Free
INGREDIENTS makes 12
• Whole grain spelt flour 2 cups
• Raw coconut sugar ½ cup (you may add little bit more if you like it for me it was enough)
• Carrots 2 ½ cups (shredded, very finely)
• Baking powder 2tsp
• Baking soda ½ tsp
• Salt ½ tsp
• Pumpkin spice 2 tbs
• Grape seed oil ½ cup (or oil of your choice)
• Unsweetened applesauce ¼ cup
• Orange juice 1 cup
• Walnuts crushed 1/3 cup
• Muffin tray with liners
• Piping bag
PROCESS
• Preheat oven to 350F.
• In a large bowl, mix the flour with sugar, baking powder, baking soda, salt & spice.
• Mix thoroughly and add carrots, oil, apple sauce and orange juice.
• Mix thoroughly and add the walnuts.
• Mix thoroughly again and spoon batter into your muffing tray; about ¼ cup each.
• Bake for 25 to 30min, until toothpick comes out clean.
• When ready, let it cool down for 15min and remove them from the tray.
• Carefully peel off the paper and cut them in half horizontally.
• Apply on the bottom half of each 1tbs of cream and place the other half on top.
• Decorate using piping bag and sprinkle with crashed walnuts.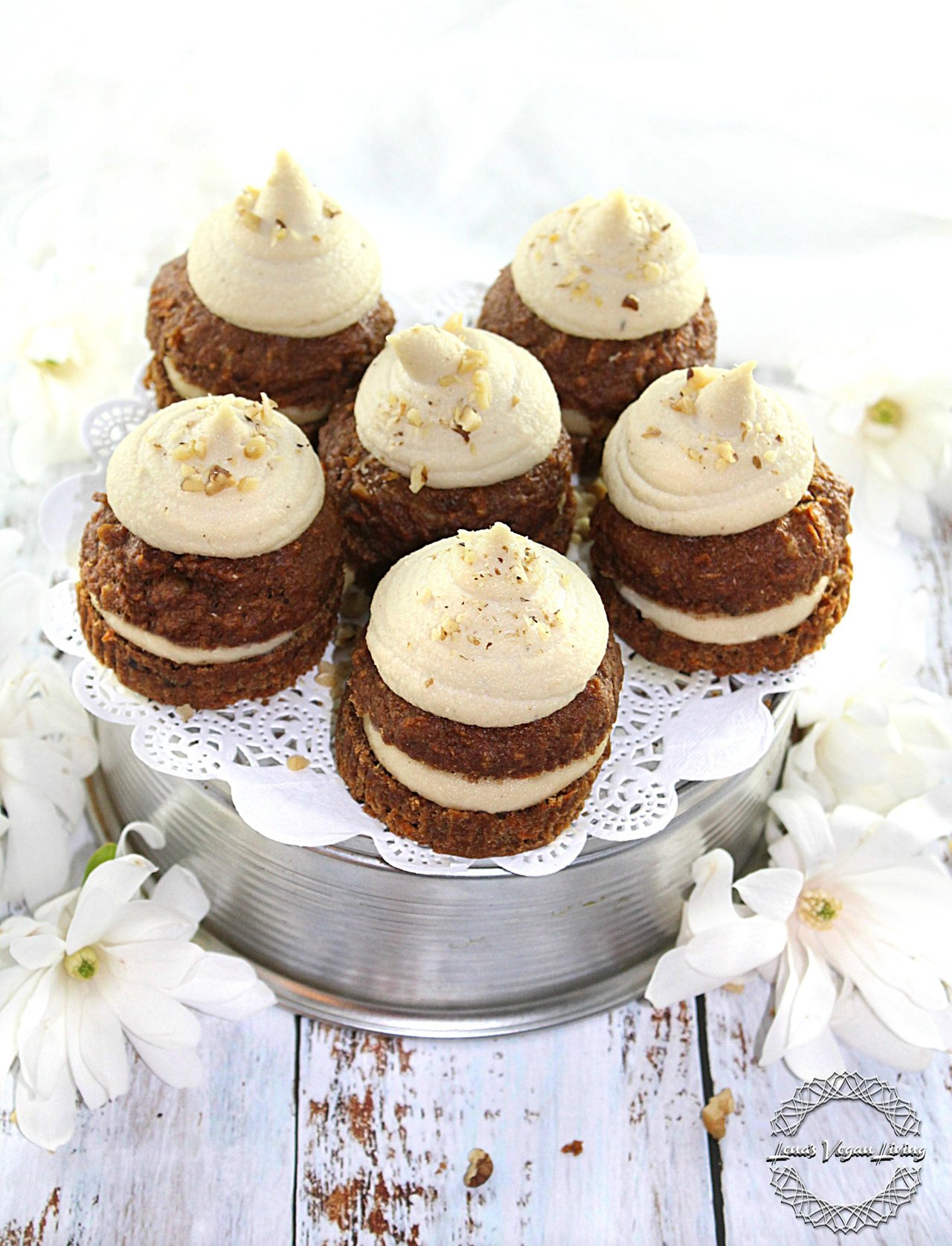 CASHEW CREAM
• Cashews 1 1/2 cups (presoaked for 4 to 6 hours)
• Canned coconut milk ½ cup (cooled)
• Maple syrup ¼ cup
• Vanilla extract 1 tsp
• Lemon juice ¼ cup
Blend all in the blender until smooth and place into refrigerator for 2 to 3 hours or overnight.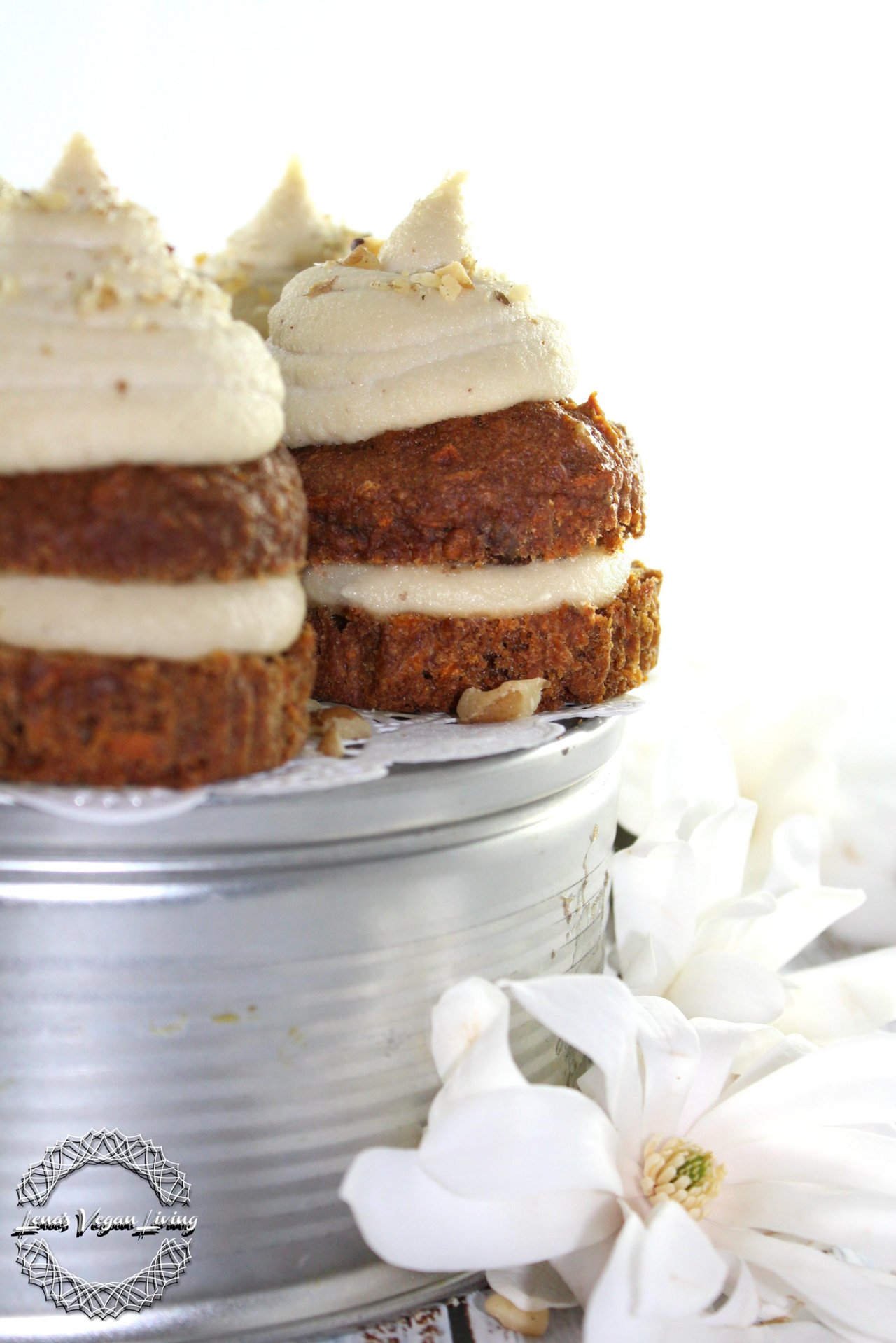 THANK YOU FOR VISITING & BON APPETIT
FOR RECIPES PLEASE VISIT MY Lena's Vegan Living Blog


|