Hearty Lentil Soup
I am trying to get my fill of soups before it's officially spring, as of next Wednesday when the spring equinox hits. I am also trying to get a jump start on my spring cleaning, and clear out some of the things that have been lingering in my fridge and cabinets almost too long, like this forgotten can of lentils and this celery that I used in this soup.
This is recipe is a great way to clear out almost-too-far gone produce, or revive items that have been neglected in your cupboards. The more veggies you have to toss in here, the better. And if you don;t happen to have the same produce lying around as me, that is fine, but I wouldn't skimp on the lentils or the potatoes. They make this soup the hearty, delicious meal that it becomes, perfect for those last few cold nights of winter.
To save time, I sauteed the vegetables separately while the potatoes boiled in the broth. Whereas I would usually saute the veggies in the stockpot and then add the potatoes and broth. The results were just as yummy, but came much quicker. This is excellent served with a slice of crusty rosemary bread or a handful of crumbled crackers.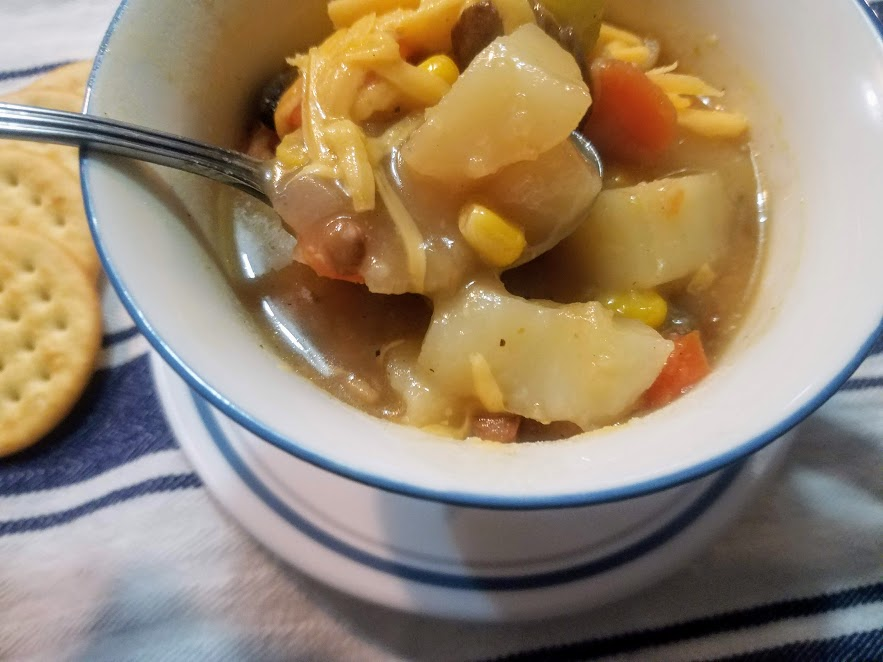 Ingredients:
5 cups vegetable broth
6 medium potatoes, chopped and peeled
2 cloves garlic, minced
2 tablespoons shallots, diced
1 cup canned lentils, rinsed and drained
3 stalks celery, chopped
1 cup frozen corn
1 cup sliced mushrooms
3 large carrots, chopped
1 tablespoon olive oil
1 tablespoon soy sauce
2 tablespoons shredded parmesan
1/2 teaspoon ground pepper
1/4 teaspoon ground cumin
1/4 teaspoon dried oregano
1/4 teaspoon onion powder
cheddar cheese and crackers for serving (optional)
In a large stock pot, cover diced potatoes with vegetable broth. Cook over medium high heat.
In a large skillet, heat olive oil over medium low heat, add shallots and garlic, cook for 1 minute.
Add carrots, mushrooms, and celery to shallots, cook for 3 additional minutes. Add veggies to potatoes and broth, stir.
Add soy sauce, pepper, cumin, oregano, and onion powder to soup. Stir well and continue to cook until potatoes are soft.
Remove from heat, stir in parmesan, corn and lentils.
Allow to sit for 5 minutes before serving warm with optional crackers and cheese.