Weekly running update #05 (July 1 2019) - Disappointing Park Run but a nice 15K circular the day after!
A total of three runs this week: intervals on Thursday, I had to work on Thursday so that took one run out, a disappointing Park Run Saturday given that I was so well rested, and then a 15K today.
Big news is that I've moved my long run to Sunday. I used to do this many years ago and loved taking all morning to just run and recover. Since I quit work I got into the habit of cramming my long run into a Tuesday for some reason. It's much better on a Sunday, now I've got my head around the idea of two runs in a row, Saturday and then Sunday.
I track most of my runs with Garmin, which auto uploads to Strava, and upload my walking/ running totals via my alt account (@self-track) via actifit.
Weekly running summary:
Total kilometers this week: 25
No. of runs: 3
Tuesday's Run - Intervals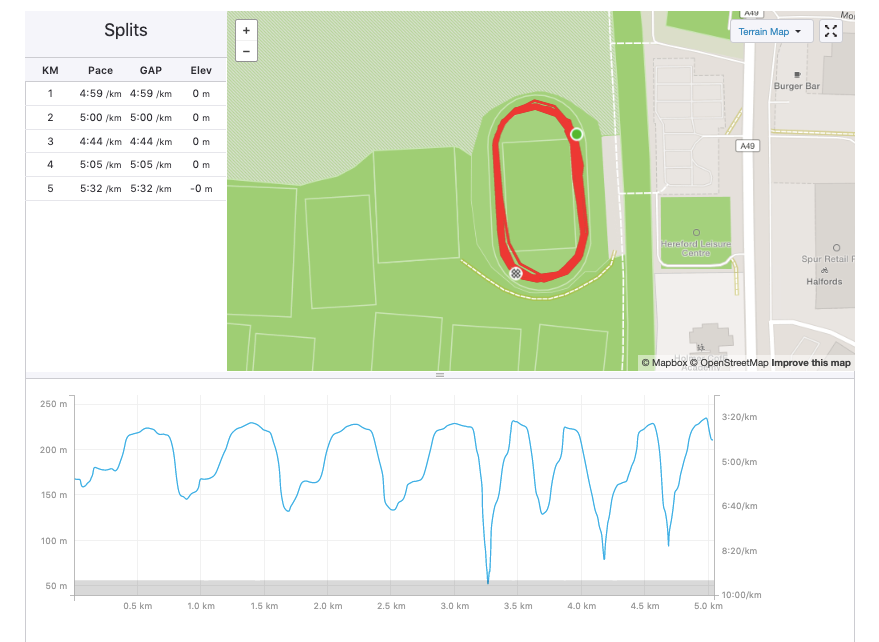 Headed up to the track for my usual intervals, lovely sunny day. This was really just one for the bank - after the first couple found it quite tough going, but I still ploughed through with my 4 times 400 and then 4 times 200, what I now regard as my new 'classic standard' interval session.
I was taking it a little bit easy, trying to maintain my new 'flatter' footstrike.... focusing on not lengthening my stride during the intervals, rather lifting my knees up and keeping a high cadence, I think it worked....
Saturday's Run: 5K Park Run
It was a little Muggy today - I set off way to quickly and suffered all the way round to get a dismal 21.55 and 20 something place - I should have taken it easy!
Odd that I did so badly given that I was so well rested, can't win 'em all I guess.
Still, made some new friends on the way round!
Sunday's Run: 15K circular
And so begins my new experiment with moving my long run after the Park Run...It was actually a really nice run, headed off at 10.00, slightly late as I'd had a few beers yesterday.
This was a new circular route, and I got a bit lost on K9, due to some rough sheep blocking the route I should have taken and my not noticing it! You can see where I had to make a long double back. I had to stop and puzzle it out at that point, found the way eventually with a combo of an ordnance survey map and my phone.
Very easy on the hear, all below 150 until the last 1K.
Anyway, no real worries as with the double back I ended up bang on 15K when I got back to my house, near enough anyways!
Next week's running plans
I'm quite constrained by work Weds to Friday next week, so I can really get one run in on Tuesday (it'll have to be intervals), i might get out for a short 'foot strike practice session' on Thursday and then long run on Sunday... I need to figure out whether I'm actually going to do a marathon or not before I head to SF4... if not I may as well just stick with 15Ks as a standard long run, no point punishing my body and myself more generally if there's no goal. Then again maybe I need more pain in my all too easy life...?