Stop Daddy, Stop!
The light is red now.
Go Daddy, Go!
The light is green now.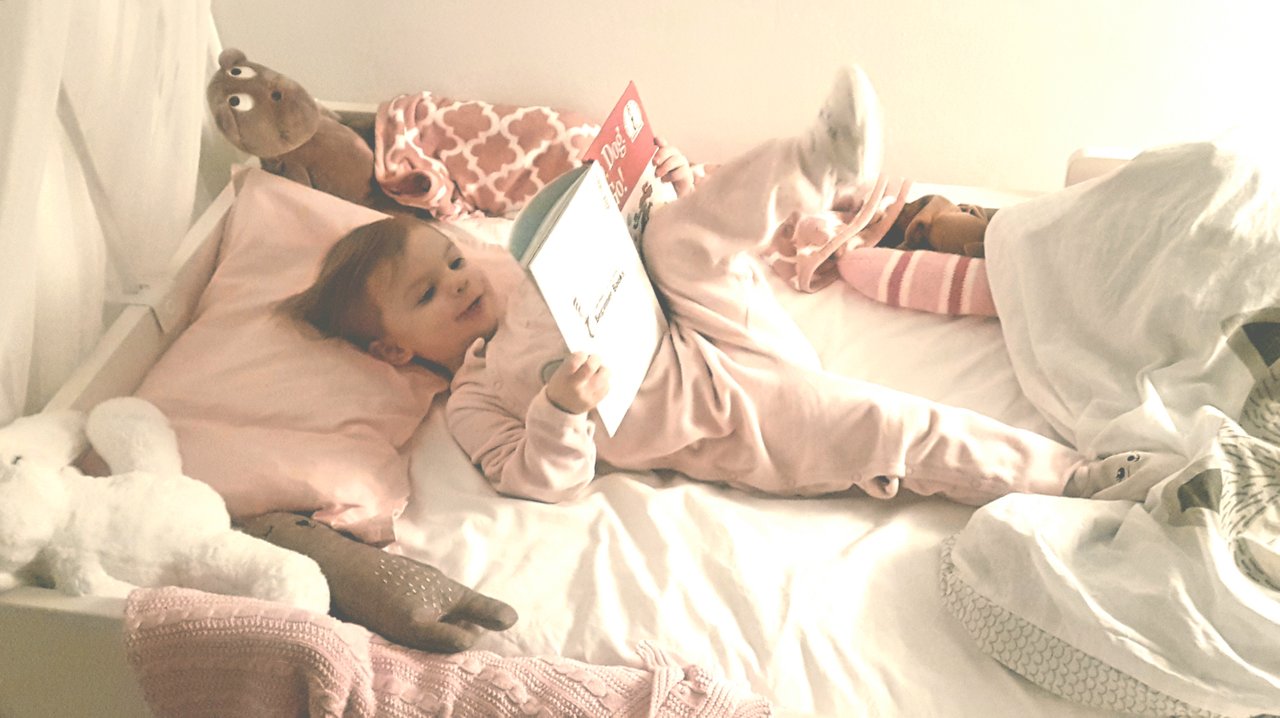 This is what I say at the traffic lights to Daddy when we are driving together so he knows what the colours mean. It comes from one of my favourite books, Go Dog, Go! by P.D Eastman. I have several of his books which I like including, Are you my mother? and Sam and the firefly. Eastman and Seuss are my go-to bedtime stories.
There is another book I have liked recently which is about a bunny that needs to pee and then takes all his friends along with him to the potty, including a... Dinosaur! I can read it myself now and trace my fingers along the words as I read. Well, I remember the words and trace my finger along the wrong sentences. I know the entire book.
Even though it is in Finnish, Daddy reads it to me too because I am "pretty sure" there is a lesson in there somewhere I am meant to be learning. However, even though I know the entire book, I don't know what it is meant to be. What I have been told though is that one day I will get to wear underwear like Mummy and Daddy sometimes wear.
This week has been a pretty awesome but very busy week. Normally I go to Mummi and Pappa's at the start of the week and then to Daycare work at the end but, because everyone is ill at Daycare, I spent all week looking after the Grandparents. They are good sorts, so I don't mind.
This week Mummi and I started playing a new game where she runs a shop and I have coins that I can use to buy items from it. I have to say, her prices are pretty steep but the quality is good. It is good that I am learning how to buy stuff that I need because one day I am going to have to work out what I can do with all this Steem when it hits 1000 dollars of value. I wonder what Steem could be used to buy in 15.5 years from now?
Oh yeah, I turned exactly 2.5 the other day and mummy thought it was worth mentioning. It is weird what parents think is worth mentioning. Grandparents too. Every time I pee into the potty whoever was there with me tells everyone else hey know that I did it. It is super weird. I can't wait until I get a phone of my own and I tell all the people I know all the things my parents do.
"Mummy made porridge - Daddy isn't wearing pants again."
It is Daddy / Daughter weekend again and Daddy is planning to take me shopping and for a coffee with his colleague on one of the days. I am really looking forward to it because I will be able to practice all the things I learned with Mummi on using money to buy the things I want. I just need to get some money...
Money Daddy, Money!
The shop is open now.
<3
Smallsteps