Partiko | The one Steem App I use most (points, points, points!)
When I arrived on Steem in December 2017 my only options on Desktop were Steemit.com and Busy.org, and on mobile it was even worse: I had to pin the steemit.com website as an icon on my app screen so I had at least 'easy access' - no mobile app was available yet.
While on Desktop I'm still constantly traveling between frontends, on mobile I found the one app I've been using 'forever' (at least in Steem years) now: Partiko. Even though it was still very basic in functionality when I first started to use it, it's upgrading and evolving constantly and the @partiko team is showing its goals reach further than 'just providing an entry to the Steem Blockchain on mobile'.
Why I use Partiko
---
Partiko is showing and doing everything I need on Steem, from reading content to upvoting content to have a very clear overview of my notifications: upvotes, mentions, transfers and replies. I'm not a huge fan of typing blogs on mobile, so I don't use that functionality too often, but I've done so a few times while traveling and it works pretty much perfect.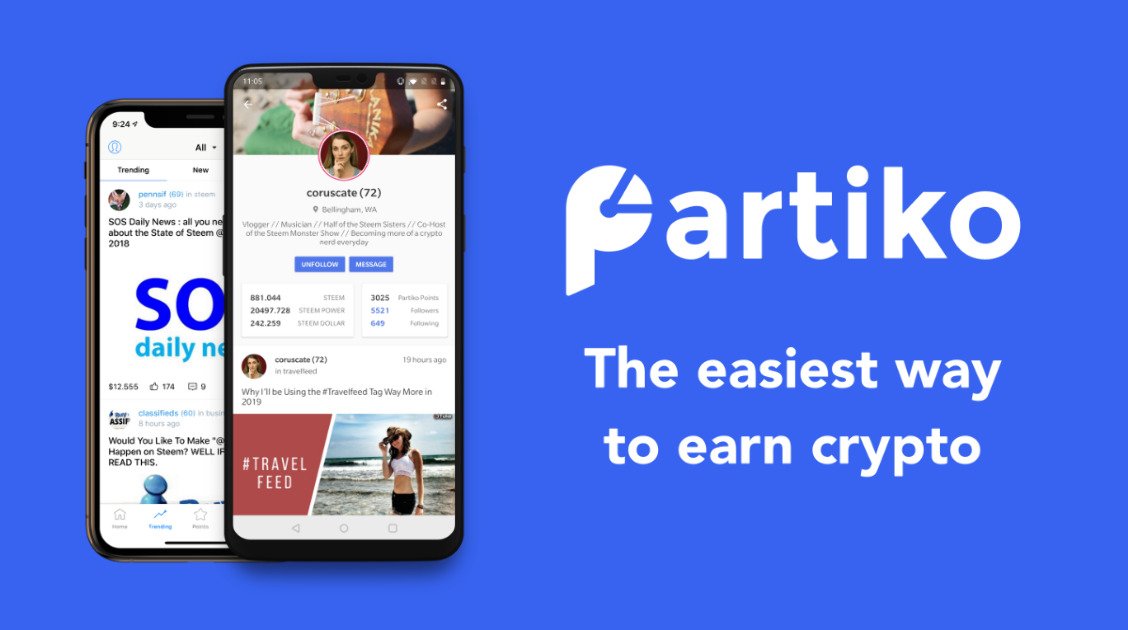 [Image from stateofthedapps.com - Give them a 'smiley' on the right of your screen while you're at it!]
More than a 'Steem App'
---
Next to the Partiko development team clearly being skilled at providing a quality product for both Android and iOS users, they have shown to be way more involved than that: they're a witness, they do all kinds of contests (like finding 'easter eggs' in new versions of the app), they've actively chased after banned Tumblr users to get them on Steem, and they have their own 'layer of competition' in the app, which are the Partiko Points. Especially this feature makes me feel like they're after something bigger than being 'just a Steem app'.
Now what are these points for?
---
Although for some they might be almost a 'badge of honour', for others they are an incentive to use the app in exchange for more upvotes. When you gather 1000 points you can exchange them for an upvote of 0,01/0,015$. No, that's not a huge upvote, but it's the first time I've seen this sort of system in place in a Steem App and it's great!
How can you collect points?
---
You can simply collect points through using the app: upvoting, commenting and posting all give points of different weight, and if you use the app regularly they quickly add up. There's a leaderboard for those who like that sort of thing :-) You can do a daily 'check in' for some extra points as well. As it's a perfect app to get 'newbies' on Steem (it really isn't that much of a jump from the Facebook app!) you can also share your referral link and get some 'passive point income'.
And more recently, like today in my case, I noticed there's not the possibility to voluntarily open some ads - and they earn quite a lot of points compared to all the other ways I've been accumulating tokens so far!
[Example of ads I could voluntarily check out today. On the right screenshot you see I received points!]
[POINTS! For comparison: an upvote gives you 5 points, a daily check-in about 10.]
Of course, no-one really loves ads, but they're pretty much non-intrusive. You don't see anything of the add before actively choosing to 'start watching adds for points'. So no ads between or below updates from your favourite Steemians, just a way to collect more Partiko Points (remember, exchangeable for upvotes!) while you're waiting for your bus to arrive :-) The way they've implemented it and have found a way to support further development of the app without beneficiary rewards makes me thing we'll see many more good things coming from this team in the future.
Are you using Partiko?
---
Are you using Partiko yourself? What do you think of Partiko? Are you not using it yet? Consider using my referral link to download and install it, I think you'll love the ease of use and easily will notice you start using it more and more often. I personally can't wait to see where this app is in half a year - if they continue on this road I'll still be using it for sure!
Useful links
---
Want to know more?